Our May selection, C.D. Wright's Rising, Falling, Hovering is so beautiful, so deft, haunting, political, vulnerable, angry. It asks questions like what happens when we want something and what happens when we want something that's wrong for us and what happens.
In June we'll read If There is Something to Desire by Vera Pavlova, translated by Steven Seymour (
Alfred A.
Knopf 2010)
. You can read about Pavlova's amazing life here.
Our August book is Gathering the Tide: An Anthology of Contemporary Arabian Gulf Poetry, edited by Patty Paine, Jeff Lodge, and Samia Touati (Ithaca Press 2011). Patty is the editor of diode poetry journal, one of my favorites, and she teaches at Virginia Commonwealth University School of the Arts in Doha, Qatar.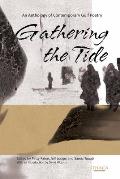 We're going to take July off. What poetry books will you take on vacation?